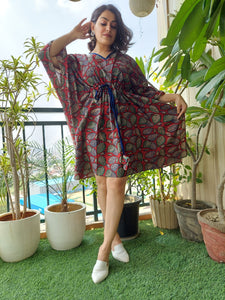 Multicolour Printed Short Kaftan
Regular price
₹ 1,099.00
₹ 0.00
Unit price
per
Step into the world of boho elegance with our stunning Tie and Dye Kaftan collection. Each piece is a unique work of art, handcrafted with love to bring out the vibrant colors and intricate patterns. Embrace the carefree spirit of bohemian fashion while exuding effortless style. Perfect for a beach vacation, a casual outing, or lounging by the poolside.
Product Specifications:
 Material: Lightweight and breathable fabric, perfect for warm weather. (Pure Cotton)
Size Options: One size fits most, with adjustable drawstrings for a customized fit.(Free size)
Designs: Assorted tie and dye patterns, offering a range of unique choices.
Colors: An array of bold and beautiful hues to suit every personality.
Occasion: Ideal for beach vacations, pool parties, festivals, or everyday wear.
Length:36 Inch



Washing Care Instructions:
Hand Wash Only: To preserve the beauty of your tie and dye kaftan, hand wash it gently using a mild detergent.
Wash Separately from White Clothes: To prevent color bleeding, wash the kaftan separately from white or light-colored clothing.
Soak and Dry Immediately: After washing, avoid leaving the kaftan damp. Instead, promptly soak and dry it to maintain its vibrant colors.
DISCLAIMER: *Orders once placed cannot be canceled.
The fabric used to create this saree is dyed in Jaipur and subtle variations in color are natural to the process. We attribute this to the beauty of dyeing and it makes each product unique and charming.
*We always try to minimize color variations between the actual product and that displayed on the screen. However, the colors of the garments on the web may vary slightly from the original product due to various reasons like:
Variations in monitor resolution levels
Having a poor VGA card(Display Card)
Having the minimum color setting in your Monitor Display Properties
Setting the Brightness and Contrast levels of your monitor to low or high values.
ALL PRICES ARE INCLUSIVE OF GST (in India)
NO EXCHANGES/RETURNS OR REFUNDS ON ITEMS PURCHASED ON SALE OR WITH A DISCOUNT CODE
---
Share this Product
---